Description
Info! The Product availability and delivery depends on the supplier's confirmation.
Introducing  Sajdah , 
World's First
Smart Educational Prayer Rug
For Every Muslim
Sajdah teaches new Muslims how to pray properly without any worries. Muslims can also improve their prayer experience by reading the Quran from Sajdah's LED screen during Taraweeh, Qyam, and other prayers.
Most Innovative Product In Islamic Education
See how Sajdah works in this quick video.
Features of Sajdah
Guided Prayer Training: Sajdah guides you through more than 25 prayers in a step-by-step learning experience.
Quran Reading: Sajdah's LED screen helps you read & memorize the Holy Quran while practising your prayers.
Smart & Connected: Use the Sajdah app to control the pace of your prayer guides, including chapter transition speed, font size, and much more.
English & Arabic : Prayer guides and Quran verses in English & Arabic, updates will include more languages.
Smart Control

& Customization
Sajdah is built in a way that lets every Muslim customize their praying experience to fit their needs. Simply pair your smartphone or Apple Watch to your Sajdah, and enjoy control & customization options as shown below. Multiple devices can connect to one Sajdah at the same time.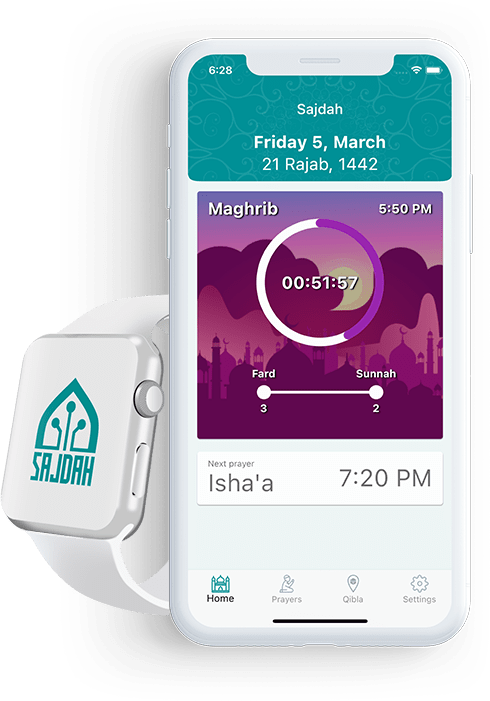 How Does
Sajdah
Work?
Sajdah guides you through more than 25 prayers with its discrete LED screen and built-in speakers with Quran recitations in English & Arabic. You can learn prayers as a new Muslim or use Sajdah to recite and memorize the Quran.
More
Comfortable Prayer 
Experience
Sajdah features an anti-slip layer and a memory foam layer that makes your prayer experience more comfortable. We see this as a great benefit for Muslims with knee or joint pain.
Prayer Education 
in Your Pocket
The app features step-by-step guides for 14 prayers with images that show correct postures, and Quran recitations in English & Arabic. It also tells you when it's time to pray, and shows you the direction of the Qibla.

Upcoming updates include 11+ prayers, other languages, and even more useful features!
The app is ready right now! Try it out. Ad-free experience , Privacy & data protection.
Click Below and Download now!