Bend it. Curve it. Light up pathways, highlight features and make your outdoors yours.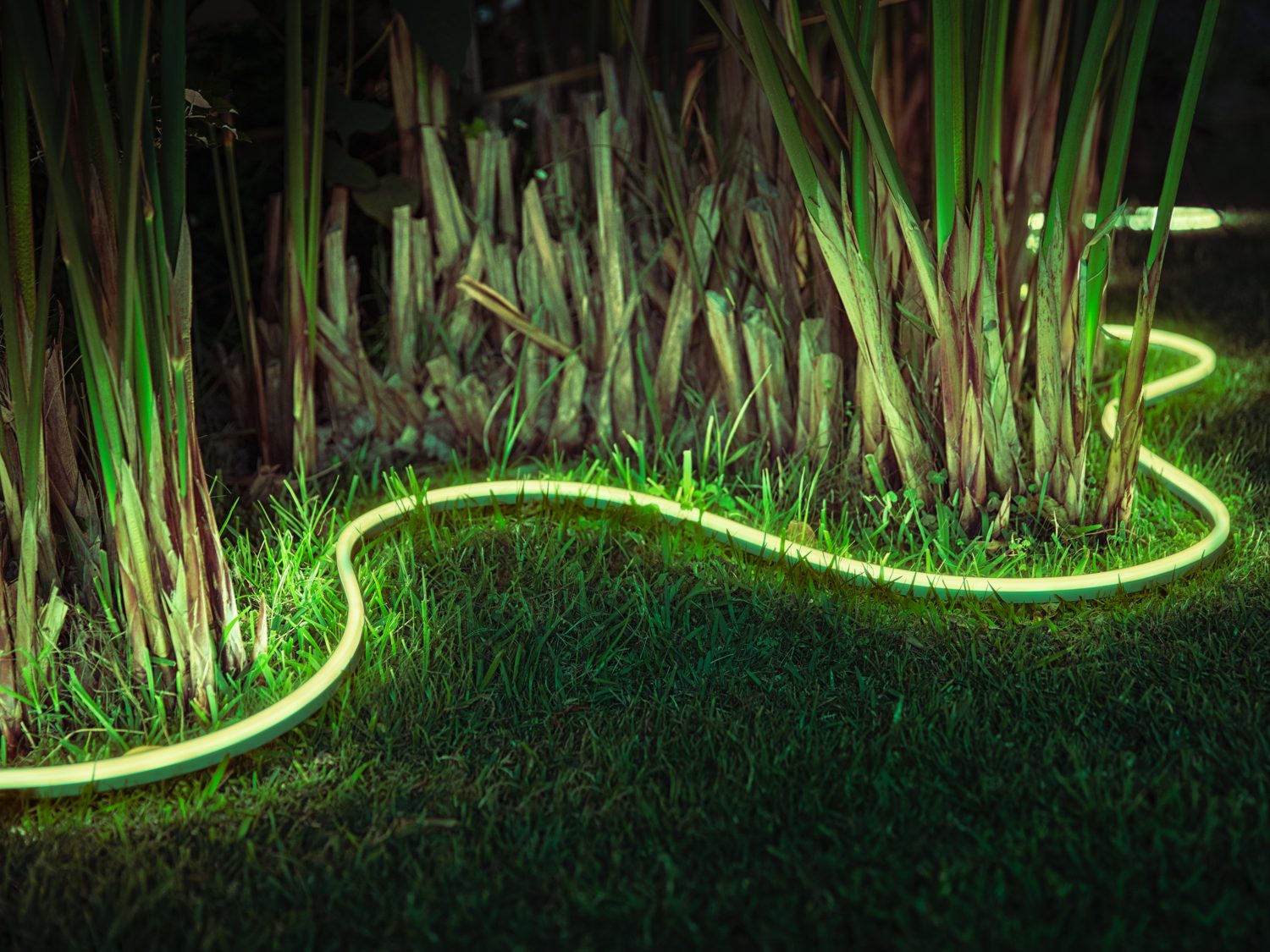 Personalize your outdoor space with a Philips Hue outdoor lightstrip. With its perfectly diffused glow, the flexible outdoor LED strip is ideal for direct and indirect lighting.
The Philips Hue Lightstrip Outdoor offers perfect diffused light for direct and indirect lighting solutions. Thanks to the diffuse coating you do not need to hide the lightstrip from plain sight; the light is mixed inside the strip emiting one uniform color on the outside.
Easily bend and shape the Philips Hue Lightstrip Outdoor for your application. Place it into the ground to highlight your pathway, or apply it with the included clips and screws to any surface for ceiling or wall lighting; possibilities are endless.
The Philips Hue Lightstrip Outdoor is fully weatherproof, meaning it can withstand all weather conditions. The lightstrip can withstand small puddles of water and jets of water from any direction, so no worries when there is unfortunate rain forecasted!
With Philips Hue outdoor lighting there's no limit to the magic you can add. Play with 16 million colors and all shades of white light to create the effect you want. Highlight objects, trees or pathways to make your space stand out. Use the Hue app to save your favorite light settings and recall them whenever you want with the tap of a finger.
Extend your evenings with Philips Hue outdoor lighting. Set the right ambiance on your patio, balcony or porch and relax. From the warm white light of a summer sun, to the ice cool daylight of winter: you can enjoy any shade of white light to fit your mood throughout the year.
Family or friends coming over? Set your outdoor lights to match the occasion. Whether its a cozy dinner on the balcony, a BBQ on the patio or party in the backyard, you can add a touch of magic to every get-together with Philips Hue. Create colorful scenes or slow-moving dynamic effects to enjoy these special moments to the fullest.
Experience the comfort of your lights turning on automatically when you arrive and turning off when you leave. Unpack your car, enter your house, all with the comfort of the right light. Just set the Hue app to Home or Away mode to switch on all your lights, or let geolocation do it for you, all without touching a button. It's as easy as that.