Description
External Dimensions: 340 x 240 x 7 mmhi/13.4" x 9.4" x 0.3"

Weight: 285g

Compatibility: 13" Macbook Pro, 13" Macbook Air 2020 and 11-12" Laptops Macbook Air 2018 and later version HP Zbook 14; Dell XPS13; Microsoft Surface Pro 7; Lenovo Chromebook;

Note: Please make sure your device size not more than 305 x 215 x 17mm/12" x 8.5" x 0.7"
Overview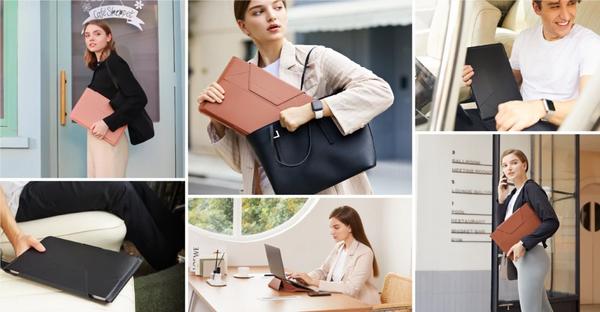 MOFT Carry Sleeve
MOFT Carry Sleeve is transcending the traditional laptop sleeve with an innovative 4-in-1 design. It provides the safety and protection of a sleeve, the ergonomy of a laptop stand, the portability essentials of a storage bag, and a look that lets you commute in style.
100% Ergonomic, 100% of Your Workday
Seamless experience from a sleeve bag to a laptop stand. Thanks to its exclusive smart-folding design, MOFT Carry Sleeve can fold into a stand within one second, bringing you ergonomic perfection anywhere.
Double the Angle, Double the Comfort
Work happens in all different environments, circumstances and positions. And that's beautiful. That's why we designed MOFT Carry Sleeve to have two angles -  15° and 25° - to satisfy our ever-adapting world.
Flexible Room Means Never Leaving an Essential Behind
Always worrying about where to stuff your power adaptors, cables, pens and notepads? Eliminate that worry forever. Because Carry Sleeve has the inner bag design, neoprene material and "expandable storage" innovation feature to fit everything you need and more.
Made With Vegan-Friendly PU Material
MOFT Carry Sleeve is made with customized PU material and fiberglass, making it slim, lightweight and durable while looking superb. You can carry your laptop in a sleek style, without the bulk.